2014 was a sad year for Portland Santas, as car-related incidents caused the death of 3 of our own.
---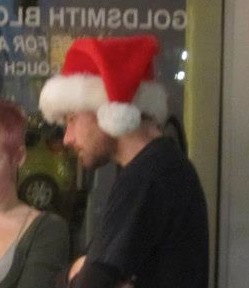 HIS NAME IS KENNY SPURLOCK!
We learned of Kenny Spurlock's death during Summer Santacon, which then turned into an impromptu wake.
Kenny was one of the muralists of the oft-referenced Santacon mural and a delightful agent of chaos.
Kenny wound up being celebrated with several memorials, including performances of live theater, live music, murals,
giant origami, dozens of people in a group hug, and chanting.
---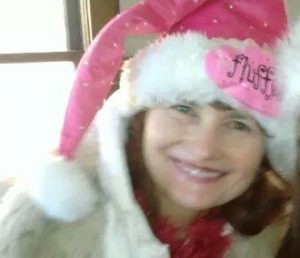 HIS NAME IS STEVE FRITZ!
HER NAME IS CARY FAIRCHILD!
Steve Fritz and Cary Fairchild were old guard Cacophonists who were driving in Steve's famed zebra-striped car on I-5 when
a truck crossed the unbarricaded median on 9/24/14. Steve was killed on site, Cary died the next week due to related injuries.
http://www.oregonlive.com/portland/index.ssf/2014/09/steve_fritz_memorial_hundreds.html